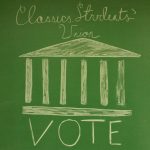 CLASSU is having its Fall General Election & Referendum on 21 September 2017 in LI 009 at 5:10pm.
The nominations process will open as of early September. Forms will then be available in the CLASSU Lounge (LI 009) or as files below. Candidates should arrive by 5:00 if possible.
If you have questions, please email us at classicsstudentsunion@gmail.com. Information regarding election procedures can be found on our Constitution page, in Article VII.
As per the constitution, we are electing six Executives, as well as selecting our Treasurer and Secretary. These positions are open to any students taking at least one Department of Classics half-course or more, or are enrolled in at least one Department Subject POSt, including First Years, in the 2017-18 year while being a full time student (or paying the ASSU fee) and physically present in Toronto for the majority of the Fall-Winter Term.
Our Chief Returning Officer for these elections will be Willem Crispin-Frei. He can be reached via classu.cro@gmail.com starting two weeks before the deadline. Nominations are due in by 1:00pm on Wednesday 20 September 2017 either via email or slipped under the CLASSU office door. Please do not forget to attach a ROSI/ACORN timetable printout or screenshot.