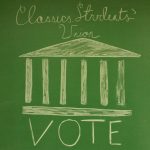 CLASSU is holding our 2021 (Online) Spring Elections on Tuesday, March 30th!
See below for nomination forms and more information about how to run!
As per the constitution, we are electing one (1) President, one (1) Vice-President, and three (3) Executives to our five (5) member Summer Senate which will be filled out to the eleven (11) member senate in the fall. This position is open to any students taking at least one Department of Classics half-course or more, or are enrolled in at least one Department Subject POSt, including First Years, in the 2019-20 year while being a full time student (or paying the ASSU fee).
All elected senators will serve until April 2021.
The nominations process is open now! Forms are linked below.
Candidates are no longer required to fulfill the signature requirement. To run for Summer Senate, simply fill out the form for the position you want to run for with your personal information. Email in this form alongside your ACORN schedule to classu.cro@gmail.com by 5PM on Sunday, March 28th. Candidates that have successfully met this requirement will be contacted with further information about the elections process.
Candidates are also encouraged to send a brief one to one and a half minute video speech to introduce themselves and their platform to classicsstudentsunion@gmail.com. Please send a transcript of the video. Text speeches will also be accepted and circulated.
If you have questions, please email us at classu@utoronto.ca. Information regarding election procedures can be found on our Constitution page, in Article VII.
(Vice-) Presidential Nomination Form Spring 2021
*Note: For the (Vice-)Presidential Nomination Form, please specify on the form whether you are running for VP or President.
Executive Nomination Form Spring 2021
Please email classu.cro@gmail.com or classu@utoronto.ca for any questions or concerns.