At its full capacity throughout the Fall/Winter school year, CLASSU's Senate is served by eleven executives. The majority of these executives are elected in September, and work throughout the year to enrich the academic and social lives of Classics students at the university.
During the summer, however, CLASSU is attended by a reduced Senate of five. These include the President, Vice-President, and three executives who are elected in March/April and fulfill summer duties before being joined by the rest of the executive team in Fall.
The next election, which will select the 2022-2023 Senate, will be held in September 2022.
For more information about the past Summer Senate team, as well as a list of past senates and their members, read below.
The 2022 Summer Senate is committed to new transparency measures this year. Among these measures is the publishing of Senate Meeting Minutes, which will be regularly updated as meetings occur. All meeting minutes may be found here. If you encounter any trouble viewing these documents, please email us at classicsstudentsunion@gmail.com.
---
2021 Summer Senate
Sarah Ann Florio, President
Sarah Ann (she/her) is in her third year at Victoria College, studying Latin, and Classical Civilizations. She is a sucker for Augustan poetry, and hopes to one day become a Latin teacher so she can talk about Ablative Absolutes without people running away. In her spare time, Sarah Ann can be found writing songs about Ancient Rome, struggling through Latin translations, or rewatching Scrubs for the millionth time. She is also an enthusiastic (and extremely mediocre) tap dancer and accordion player, and an avid fan of 80s Italian Disco Pop (just ask anyone who's ever been in LI009 with her). If someone could please explain the difference between a gerund and a gerundive to her, she'd greatly appreciate it.
Classics courses she's taken: LAT101, LAT102, LAT201, LAT202, LAT341, LAT343, LAT353, GRK101, CLA160, CLA201, CLA210, CLA230, CLA231, CLA233, CLA260, CLA372, CLA367, CLA317, CLA204, HIS327
Karuna Sinha, Vice-President
Karuna (she/her) is in her third year at Woodsworth College studying Latin, Classical Civilizations, and Education. She is particularly interested in depictions of women and power in Roman literature and will happily talk about the agency of women in Livy or Martial to anyone who is willing to listen. Other than her deep love for roman literature, she is also interested in Latin pedagogical styles, the aesthetics of ancient Mediterranean art, and the later reception of Classics by cultures and countries beyond the Mediterranean. When she's not color-coding her planner or drowning in schoolwork, Karuna can be found making niche Spotify playlists, baking up a storm, or buying FAR too much stationery with which to write letters. Her other hobbies include organizing her Google Drive, embroidering, and dreaming about the cats she'll adopt one day.
Classics courses she's taken: LAT201, LAT202, LAT350, LAT352, GRK101, CLA160, CLA204, CLA210, CLA219, CLA231, CLA236, CLA369, CLA388.
Saiba Anand, Secretary
Saiba (she/they) is in their third year at New College, studying Classical Civilizations, Political Science, and Art History! She is an obvious Hellenist, but definitely still enjoys the occasional Ovid reading! Saiba is currently obsessed with learning about gender/sexuality in the Greek world, mythology, as well as colonialism in the ancient world (but they change their mind every ten seconds so we'll see if this lasts)! Although she never knew about Classics until recently, Saiba is super passionate about learning as much as she can, so send any fun facts her way, I promise she'll be so excited. Outside of CLASSU/Classics courses, Saiba loves dancing (don't ask about her favourite style they cant choose), and is on the UofT danceteam. In their free time she binge watches the random tv shows, spends all their money thrift shopping, hanging with friends, or making pinterest boards only they look at!
Classics courses she's taken: CLA101H5, LAT101, CLA204H5, CLA215, CLA230H5, CLA233, CLA236, CLA260
Jessika Dupuis
Jessika (she/her) is in her fifth year at New College, with majors in Classics, Classical Civilization, and a minor in Philosophy. If she isn't reading or going on pointless walks she's thinking about Roman authors and how to make fun of them. She enjoys everything Greek, even the existential crisis that usually occurs after reading some philosophy. She like collecting hobbies, and after experimenting with cooking and photography, she has started the journey with knitting and wood carving!
Classics courses she's taken: LAT201, LAT202, GRK101, GRK102, CLA260, CLA230, CLA233, CLA319, CLA362, LAT430, LAT352, LAT350, GRK 201, GRK 202.

Braden Chu
Braden (he/him) is in his second year at University College and is doing a double major in Classical Civilization and English, as well as a minor in Ancient Greek. He still has a lot to learn, but for now he is curious about Bronze-Age Cretan civilization, as well as gender and sexuality as depicted in Homeric epic poetry. When he's not losing his mind over nonsensical translation exercises in his Ancient Greek textbook, Braden loves over-sharing on his Instagram story, reading Jane Austen novels, frying his brain with hyperpop music, playing with makeup, and getting in drag. If you ever see him in the classroom or pretending to walk the runway on his way to class, say hi! He's a bit clueless, but friendly.
Grace Huo
Grace (she/her) is a first year at Victoria College, studying Classical Civilizations, History, and International Relations. It's safe to say, Grace's heart is a cramped and crowded place! But behind the memories of home, tucked gently underneath her obsession with red and nestled next to her appetite for sweets, is a special place for classics. Rome was her first love (sorry Greece!), though if she's not daydreaming about ancient tax systems and the glory days of Pax Romana, she's probably just skipped a few hundred years forward and is daydreaming about Renaissance Italy instead. Beyond history and classics, she loves to sing and make music: she was a proud theatre, choir and band kid in her high school days. Her other hobbies include art, writing, missing her cat back home, and searching for pretty fountain pens/inks. Grace is also the owner of a large (and she means large!) sticker collection, and she would gladly share some with anyone who asks :))
Luke Lomax, First-Year Representative
Luke Lomax (he/him) is in his first year at St. Michael's College, and his is currently planning on studying Classical Civilizations, Medieval Studies, and Greek. He is passionate about basically anything relating to Ancient Greece, but he is especially interested in the history of Greek religion, particularly on how and why it evolved and changed overtime. Having said that, he can discuss any historical period before the year 1600, whether if you are interested in the fall of Rome, or the fall of Constantinople, Luke is always happy to chat about any part of history. (He emphasises that he only knows things pre 1600.) He spends most of his free time playing sports, exploring Toronto, and spending way too much time window shopping.
Cara Nicol
Cara Nicol (she/her) is in her third year at the Faculty of Music where she studies a double major in Classics and History, Culture, and Theory. She plays the harp and she has a particular interest in ancient music. She'll talk your ear off about it if she gets the chance! In addition to this, Cara enjoys metre and ancient drama, her favourite set of plays is Aeschylus's Oresteia. Through this she has developed a fondness for the Trojan War myth and the Bronze Age Aegean. Cara enjoys listening to the music of Dougie MacLean, performing and collaborating with other musicians, and sleeping.
Classics courses she's taken: CLA230, CLA231, CLA382, CLA260, CLA362 LAT201, LAT202, LAT350, LAT352, LAT428 GRK102, GRK201, GRK202, GRK353
Past Senates
Below, you will find a neat compendium of all the senates of years gone by.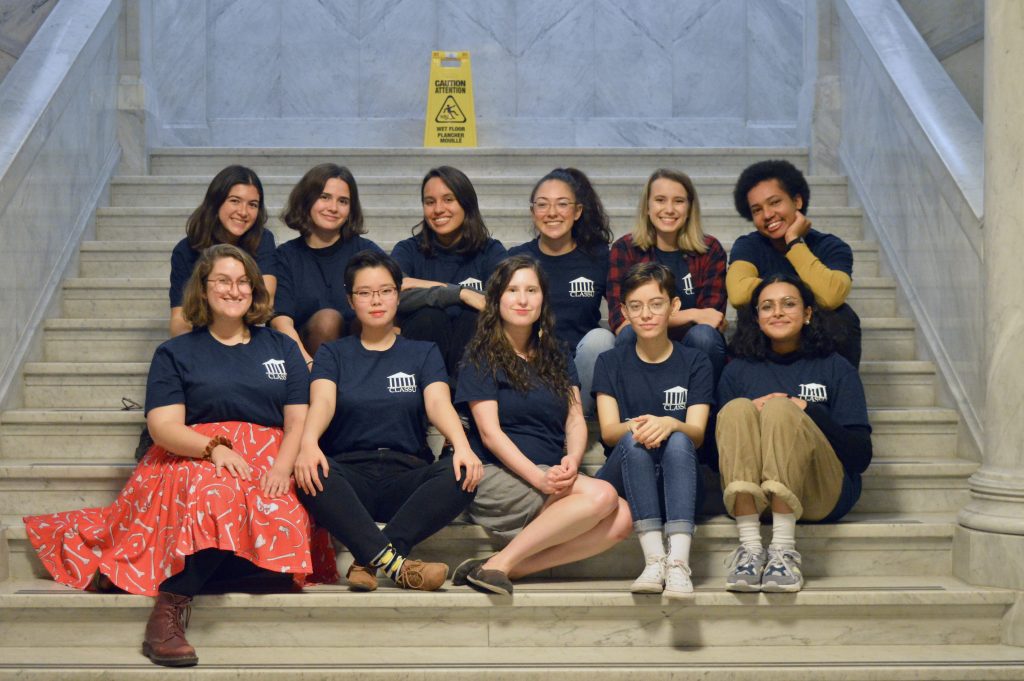 2020-2021
President: Sydney Miller
Vice-President: Sarah Ann Florio
Treasurer: Hannah McCarthy
Secretary: Karuna Sinha
Senators: John Liao, Valen Trofimova, Jessika Dupuis, Leah Schweitzer Gukathasan, Sheena McKeever, Silas Sobeck, Jacqueline Viner
2019-2020
President: Irum Chorghay
Vice-President: Sydney Miller
Treasurer: Hannah McCarthy
Secretary: Camille Richter
Senators: Michias Bahlbi, Sarah Ann Florio, Leah Schweitzer Gukathasan, John Liao, Sarah Nathanson, Eli dos Santos, Jacqueline Viner
2018-2019
President: Laura Harris
Vice-President: Irum Chorghay
Treasurer: Patricia Salata
Secretary: Michias Bahlbi
Senators: Leah Schweitzer Gukathasan, Kenneth Kim, Sydney Miller, Sarah Natale, Paul Nunez, Camille Richter, Elise Sintim-Aboagye, Erica Venturo
2017-2018
President: Samantha Mazzilli
Vice-President: Laura Harris
Treasurer: Elizabeth Colonna
Secretary: Michias Bahlbi
Senators: Genevieve Crispin-Frei, Ellie Morum, Paul Nunez, Allison Suba, Felipe Vallejo, Seraphina Vasilodimitrakis-Hart, and Julia Wyganowski
2016-2017
President: Willem Crispin-Frei
Vice-President: Samantha Mazzilli
Treasurer: Toby Keymer
Secretary: Elizabeth Colonna
Senators: Sophia Alkhoury, Gabriel Calderon, Laura Harris, Annabelle Kolomeisky, Samantha Odrowaz-Sekely, Allison Suba, and Felipe Vallejo
Summer Senator: Hadley Staite
2015-2016
President: Taylor Stark
Vice-President: Willem Crispin-Frei
Treasurer: Hana Carozza
Secretary: Toby Keymer
Social Co-Ordinator: Hadley Staite
Senators: Elizabeth Colonna, Samantha Mazzilli, Victoria Prepelita, Felipe Vallejo, Seraphina Vasilodimitrakis-Hart, and Michal Zabinski
2014-2015
President: Taylor Stark
Vice-President: Willem Crispin-Frei
Treasurer: Michal Zabinski
Student Affairs Co-Ordinator: Nuard Tadevosyan
Secretary: Toby Keymer
Senators: Hana Carozza, Mitch Cram, Samantha Mazzilli, Max Peers, Hadley Staite, and Alexandra Yao
2013-2014 *
President: Maya Chakravorty
Vice-President: Willem Crispin-Frei
Treasurer: Chris Hogendoorn
Student Affairs Co-Ordinator: Gill Scott
Secretary: Taylor Stark
Senators: Aidan Flynn, Toby Keymer, Jeffrey Schulman, Hadley Staite, Nuard Tadevosyan, and Helen Thomas
*Known as the Association of Classics Students until 27 March 2014.