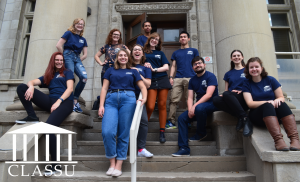 CLASSU's Senate has eleven positions. Five members (President, Vice-President, and three executives) serve a one year term beginning in March/April and are on both the Summer Senate and Full Senate. Six more executives are elected in September and serve until the following March/April. The portfolios of Treasurer and Secretary are assigned by a general vote in September to already elected Executives. The next election will be in March 2018. Read more about the current senate below (Links take you further down the page).
Senate of the Classics Students' Union 2016-2017
President: Samantha Mazzilli
Vice-President: Laura Harris
Treasurer: Elizabeth Colonna
Secretary: Michias Bahlbi
Executives: Genevieve Crispin-Frei, Ellie Morum, Paul Nunez, Allison Suba, Felipe Vallejo, Seraphina Vasilodimitrakis-Hart, and Julia Wyganowski
Senate Biographies
Michias Bahlbi, Secretary
Mickey is a third-year student double majoring in Cell and Molecular Biology and Immunology, but don't let that fool you! He's got enough room in his heart for Classics (though his sanity might disagree) and has decided to complete a Classical Civilizations minor! This is his first year serving on CLASSU, but he endeavours to make it the most fun and magical time he can. A Hellenist with a love of Greek mythology and ancient plays, he's been known to frequently rant about why Jason is useless and Medea is perfect (except for maybe the many murders, but it was for love, y'know)**. In his natural habitat, he can probably be found just listening to music or watching trashy reality TV, or baking too many cookies. If encountered in the wild, feel free to feed (always starving) or just chill with. **Disclaimer: The opinions of a single member do not reflect CLASSU's views. Nor do they endorse murder for love. Or a multitude of other reasons, probably.
Classics courses he's taken: CLA160, CLA201, CLA203, CLA204, CLA232, CLA260
Elizabeth Colonna, Treasurer
Elizabeth is a fourth-year Classical Civilizations and Art History Double Major. This year will be her third year on the CLASSU executive. Her classical interests lie in Roman art and architecture as well as women in Roman culture. Beyond the classical realm, her interests extend to Baroque paintings and modern sculpture. When she's not working towards beating the record for most hours spent in the Classics Lounge, she can be found taking pictures around Toronto, reading Plebeian, or coming up with captions for CLASSU pictures.
Classics courses she's taken: CLA160, CLA204, CLA219, CLA231, CLA232, CLA260, CLA366; LAT101, LAT102; FAH206, FAH207.
 Genevieve Crispin-Frei, Senator
Genevieve is a first year Humanities student, enrolled mostly in Classics and Frye Vic One courses. This year she is filling the position of First Year Senator. Having studied Classics in high school, Genevieve is very excited to see how Classics can be applied to the "real world". Her classical interests include Greek and Roman Mythology, Roman Life, and Latin Poetry, but she is excited to branch out more in university. Genevieve is not like most girls… she loves the subjunctive
omnes eum etiam ament! If only all people would love it too! When not in classes, you can find Genevieve avoiding homework, going to the gym, eating all of the vegan food, chilling in her residence (Gate House represent!), or playing Lana Del Rey songs on her sparkly red ukulele.
Classics courses she is taking: LAT201, CLA260, and VIC162.
Laura Harris, Vice-President
Laura is in her third year at Victoria College Double Majoring in her double obsession: Classics and Classical Civilizations. This is her second year on CLASSU.  Laura's main Classical interests are women in the ancient world, social and cultural history, ancient drama, and ancient literature and poetry, but she can get excited about pretty much anything in the Classical world. She is in her eighth year of Latin and is struggling through Greek 300. She likes to spend her summers looking at pottery at an archaeological dig at Roccagloriosa, Italy. When not translating or annoying people with the latest book she's reading, she can be found learning ballet and historical dance, admiring her cats, or organizing books either at home or at EJ Pratt library.
Classics courses she's taken: CLA 230, CLA231, CLA232, CLA260, CLA303, CLA310, CLA364, CLA368, CLA382; GRK101, GRK102, GRK201, GRK202, GRK351; LAT342, LAT343, LAT350, LAT351, LAT428.

Samantha Mazzilli, President
Sam is a fourth-year Classical Civilizations Major, with a Double Minor in Latin and Lit & Critical Theory. She has been on CLASSU as a Senator and then VP since the start of her first year, a tenure which critics have rated "Riveting!" and "Almost entirely fuelled by coffee." Having done six years of Latin, she has faced her fair share of classroom embarrassment, almost always at the hands of the subjunctive. She is most interested in Hellenistic art, Latin profanity, and modern (or early modern) literary reception. In her free time, or time spent procrastinating, she enjoys giving tours of Victoria College, getting aggressive over Trivial Pursuit, and quoting SNL sketches. You can usually find her moving from various couches to caffeine sources on campus (and vice versa), but if not, feel free to email her!
Classics courses she's taken: CLA160, CLA204, CLA230, CLA231, CLA260, CLA310, CLA373; LAT101, LAT102, LAT201, LAT202, LAT350, LAT352; FAH207, FAH312.
Ellie Morum, Senator
Ellie Morum is a fourth-year Classical Civilizations and Archaeology major with a Latin minor. She's been coming to CLASSU events and living in the lounge since first year, but this is her first year on the CLASSU senate. She is excited by old pottery bits, and spending summers being sweaty in the Mediterranean picking up, washing, and drawing sherds. Back in Canada, though, she spends her time thinking about Augustus, Augustan literature, and propaganda. Her non-Classical interests include anything crafty, many TV shows, and tea the colour of approximately Munsell 2.5YR 5/6.
Classics courses she's taken: CLA160, CLA204, CLA230, CLA231, CLA232, CLA260, CLA319, CLA368, CLA400, CLA403; LAT101, LAT102, LAT201, LAT202, LAT353; GRK101, GRK102
Paul Nunez, Senator
Paul is a third-year English major, minoring in Classical Civilization and Anthropology. He is from St. Michael's college and prefers Hellenistic culture to the Romans, although he does love Ovid. One of his favourite myths is that of Apollo and Daphne. One way he connects Greek literature with Contemporary works, especially in poetry or verse, is the use of dactylic hexameter, a staple of the Homeric epics and sometimes used in contemporary poetry to parallel an adventuristic tone to the plot of the poem. British Romantic poets also liked using references to Classical myth, especially Keats, so Paul thinks everyone should love Classics because the Romantic period was Paul's favourite to study. Paul's interest outside Classics is running, and his favourite snack is hot earl grey tea with frozen strawberries.
Classics courses he's taken: CLA160, CLA204, CLA232, CLA230
Allison Suba, Senator
Allison is a second-year Archaeology Major with a Double Minor in Human Geography and Geographic Information Systems, but she can't seem to tear herself away from Classics. This is her second year as a Senator on CLASSU. Her Classical interests include pre-Socratic philosophers, Roman history, and the antics of Catullus. When she's not in the Lounge, she's probably getting hurt playing quidditch, drinking too much tea, or trying to nap in all of U of T's 44 libraries.
Classics courses she's taken: CLA160
Felipe Vallejo, Senator
Felipe is a third-year Classical Civilization and Philosophy major. He's from University College (you can't spell CLASSU without UC) and a die-hard Hellenist. This will be his third year on the Senate, having previously served as the First Year Representative. His classical interests are Ancient Greek mythology, Greek and Roman Epics, and Ancient Philosophy (Leggo Plato!). When not on CLASSU, Felipe is either rambling about soccer, jamming to music, and, more recently, crying about taking Latin and Greek at the same time.
Classics courses he's taken: CLA160, CLA204, CLA231.
Seraphina Vasilodimitrakis-Hart, Senator
Seraphina is a fourth-year Classical Civilizations Major, with Minors in History and Philosophy. This is her second year on the CLASSU Senate. Her Classical interests are Greek Mythology, modern reception of ancient myth, ancient art and architecture, Greek history, and gender in the ancient world. She adores Alexander the Great, Odysseus, and Sappho. When she is not crying over the destruction of the Library of Alexandria, she enjoys swooning over Voltaire, Rousseau, and Napoleon, and passionately learning about the French Revolution (down with the bourgeoisie). She is unrequitedly in love with Ancient Greek, and is a book hoarder.
Classics courses she's taken: CLA160, CLA204, CLA230, CLA303, CLA322, CLA362, CLA386, CLA3**; GRK101, GRK102, GRK201, GRK202, GRK341; LAT101, LAT102; FAH207; PHL200
Julia Wyganowski, Senator
Julia Wyganowski is a third-year student majoring in Classical Civilizations and minoring in Art History and German Language. This is her first year serving on the CLASSU Senate and will stop at nothing to make it a memorable one! Her classical interests can be narrowed down to basically everything, but if you must make her choose (a cruel thing to do) she favors the art of the Greek and Roman world, Roman religion, ancient plays, and Latin (please help her this is a cry for help). Beyond the classical realm, her interests include studying languages (hint hint German minor hint hint!) and Renaissance and Baroque art and sculpture. If you can pull her away from her bed and various Netflix shows and movies, Julia will gladly find a nice café to read a book (if she can ever find the time), wander around art museums, ski down a snowy mountain peak, or let's face it watch more Netflix.
Classics courses she's taken: CLA160, CLA204, CLA231, CLA230; LAT101, LAT102.
Past Senate Members
2016-2017:
President: Willem Crispin-Frei
Vice-President: Sam Mazzilli
Treasurer: Toby Keymer
Secretary: Elizabeth Colonna
Senators: Sophia Alkhoury, Gabriel Calderon, Laura Harris, Annabelle Kolomeisky, Samantha Odrowaz-Sekely, Allison Suba, and Felipe Vallejo
Summer Senator: Hadley Staite

2015-2016:
President: Taylor Stark
Vice-President: Willem Crispin-Frei
Treasurer: Hana Carozza
Secretary: Toby Keymer
Social Co-Ordinator: Hadley Staite
Senators: Elizabeth Colonna, Sam Mazzilli, Victoria Prepelita, Felipe Vallejo, Seraphina Vasilodimitrakis-Hart, and Michal Zabinski

2014-2015:
President: Taylor Stark
Vice-President: Willem Crispin-Frei
Treasurer: Michal Zabinski
Student Affairs Co-Ordinator: Nuard Tadevosyan
Secretary: Toby Keymer
Senators: Hana Carozza, Mitch Cram, Sam Mazzilli, Max Peers, Hadley Staite, and Alexandra Yao
2013-2014:*
President: Maya Chakravorty
Vice-President: Willem Crispin-Frei
Treasurer: Chris Hogendoorn
Student Affairs Co-Ordinator: Gill Scott
Secretary: Taylor Stark
Senators: Aidan Flynn, Toby Keymer, Jeffrey Schulman, Hadley Staite, Nuard Tadevosyan, and Helen Thomas

*Known as the Association of Classics Students until 27 March 2014