CLASSU's Senate has eleven positions.
Five members (President, Vice-President, and three executives) serve a one year term beginning in March/April and are on both the Summer Senate and Full Senate. Six more executives are elected in September and serve until the following March/April. The portfolios of Treasurer and Secretary are assigned by a general vote in September to already elected Executives.
The next election will be in September 2020.
Read more about the current senate below.
Senate Biographies
Sydney Miller, President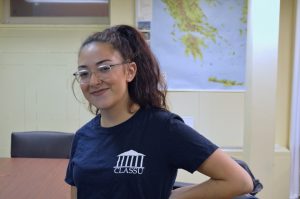 Sydney (she/her) is in her fifth year at Innis College (yes, we do exist) studying Classical Civilization and Archaeology. She's a Hellenist who particularly enjoys studying gender and sexuality through the lens of theory. Hit her up with some Sapphic talk and she'll probably want to become best friends. If she is not drowning in midterms/finals, she can probably be found exploring the city with her friends, killing time in the ROM, or hanging out at home with her two cats.
Classics courses she's taken: CLA160, CLA260, CLA203, CLA219, CLA230, CLA232, CLA204, CLA233, CLA210, CLA319, CLA322, CLA362, CLA382, CLA388
Sarah Ann Florio, Vice-President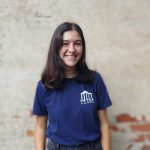 Sarah Ann (she/her) is in her second year at Victoria College, studying Latin, Classical Civilizations, and English. She is particularly interested in Latin poetry and Roman History, specifically the early empire, and will happily rant about Emperor Claudius, or the Aeneid to anyone who will listen! When she's not writing songs about Ancient Rome or struggling through Latin translations, Sarah Ann can be found procrastinating around campus, or annoying everyone in her vicinity with her wildly obnoxious ukulele and accordion playing.  Her hobbies include tap dancing, knitting, singing with her acapella team, and watching Ratatouille literally once a week.
Classics courses she's taken: LAT101, LAT102, GRK101, CLA160,CLA201,  CLA231, CLA210, 
Senators
John Liao
John (he/him) is a second year at Trinity College double-majoring in Classics and Classical Civilizations. An ardent Romanist and aspiring social historian with an affinity for the ordinary, John enjoys perusing ancient clothing, altars, and shady Roman backstreets in an exploration of daily life and thought. When not translating (and failing to make) weird Roman recipes or trying to figure out why they thought a public toilet sponge would be a good idea, he can be found enthusing over fountain pens and insisting that argyle is the best sock pattern. He can also be found practically camping in the ROM and/or AGO, yelling about Impressionism or modern representations of the classical world.
Classics courses he's taken: CLA160, CLA210, CLA231, CLA236, LAT101, LAT102, GRK101

, GRK102
Hannah McCarthy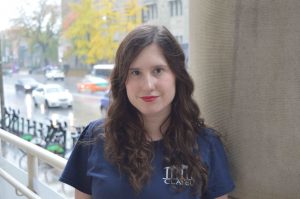 Hannah (she/her) is a fifth-year student at New College, majoring in Classical Civilizations and English. She is particularly interested in the Julio-Claudian Empire and the women in that complicated family (justice for Julia the Elder!), and funerary inscriptions. Although Roman history is her favourite area of Classical study, Hannah loves Greek tragedy and has devoted quite a lot of time to writing passionate defences for the female 'villains' (Clytemnestra did nothing wrong). Hannah loves science fiction and will happily talk your ear off about Alien and Star Wars—you've been warned. You can find Hannah studying at Lillian Massey or Pratt Library, rummaging through used bookstores, or at your local pop culture convention.
Classics courses she's taken: CLA160, CLA232, CLA219, CLA260, CLA233, CLA236, CLA308, CLA362, CLA367, CLA387, CLA322, CLA368, CLA382, CLA310, CLA319, CLA402
Jacqueline Viner, TikTok Ambassador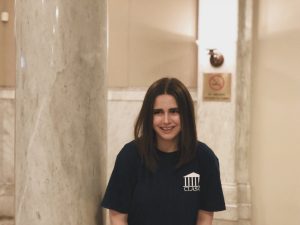 Jacqueline (she/her) is a fourth year student studying Classical Civilization and Criminology (yes, she knows it's a weird combination but she has decided to roll with it). Jacqueline is a Hellenist who loves classical literature in—and she can't stress this enough—translation. She has a deep affinity for Homer and will never hesitate to share her "hot-takes" (i.e. unsubstantiated claims) on the Odyssey. Athena, her favourite goddess, has helped instil in Jacqueline a desire for wisdom and justice, but most importantly the ability to seamlessly weave Vine references into any conversation (it's a weaving joke!). As you could have predicted by her last name, she has bookmarked countless "greek gods as vines" compilations on Youtube and has been waiting for someone to ask her about them.
Classics courses she's taken: CLA160, CLA232, CLA204, CLA260, CLA201, CLA319, CLA386
Past Senate Members
2019-2020:
President: Irum Chorghay
Vice-President: Sydney Miller
Treasurer: Hannah McCarthy
Secretary: Camille Richter
Senators: Michias Bahlbi, Sarah Ann Florio, Leah Schweitzer Gukathasan, John Liao, Sarah Nathanson, Eli dos Santos, Jacqueline Viner
2018-2019:
President: Laura Harris
Vice-President: Irum Chorghay
Treasurer: Patricia Salata
Secretary: Michias Bahlbi
Senators:  Leah Schweitzer Gukathasan, Kenneth Kim, Sydney Miller, Sarah Natale, Paul Nunez, Camille Richter, Elise Sintim-Aboagye, Erica Venturo 
2017-2018:
President: Samantha Mazzilli
Vice-President: Laura Harris
Treasurer: Elizabeth Colonna
Secretary: Michias Bahlbi
Senators:  Genevieve Crispin-Frei, Ellie Morum, Paul Nunez, Allison Suba,  Felipe Vallejo,  Seraphina Vasilodimitrakis-Hart, and Julia Wyganowski

2016-2017:
President: Willem Crispin-Frei
Vice-President: Samantha Mazzilli
Treasurer: Toby Keymer
Secretary: Elizabeth Colonna
Senators: Sophia Alkhoury, Gabriel Calderon, Laura Harris, Annabelle Kolomeisky, Samantha Odrowaz-Sekely, Allison Suba, and Felipe Vallejo
Summer Senator: Hadley Staite

2015-2016:
President: Taylor Stark
Vice-President: Willem Crispin-Frei
Treasurer: Hana Carozza
Secretary: Toby Keymer
Social Co-Ordinator: Hadley Staite
Senators: Elizabeth Colonna, Samantha Mazzilli, Victoria Prepelita, Felipe Vallejo, Seraphina Vasilodimitrakis-Hart, and Michal Zabinski

2014-2015:
President: Taylor Stark
Vice-President: Willem Crispin-Frei
Treasurer: Michal Zabinski
Student Affairs Co-Ordinator: Nuard Tadevosyan
Secretary: Toby Keymer
Senators: Hana Carozza, Mitch Cram, Samantha Mazzilli, Max Peers, Hadley Staite, and Alexandra Yao
2013-2014:*
President: Maya Chakravorty
Vice-President: Willem Crispin-Frei
Treasurer: Chris Hogendoorn
Student Affairs Co-Ordinator: Gill Scott
Secretary: Taylor Stark
Senators: Aidan Flynn, Toby Keymer, Jeffrey Schulman, Hadley Staite, Nuard Tadevosyan, and Helen Thomas

*Known as the Association of Classics Students until 27 March 2014