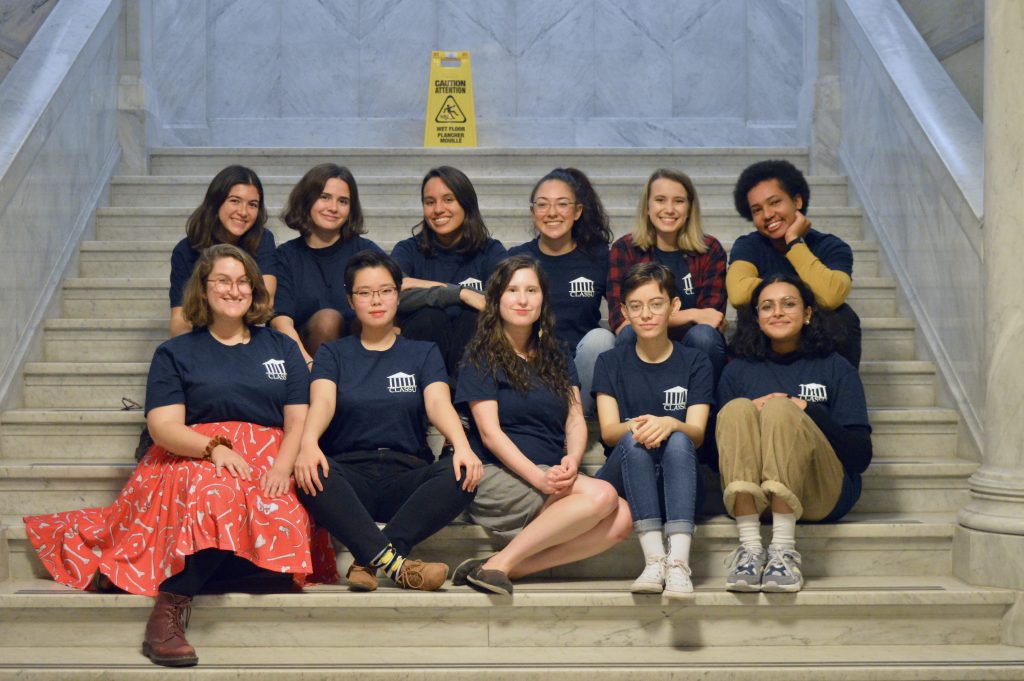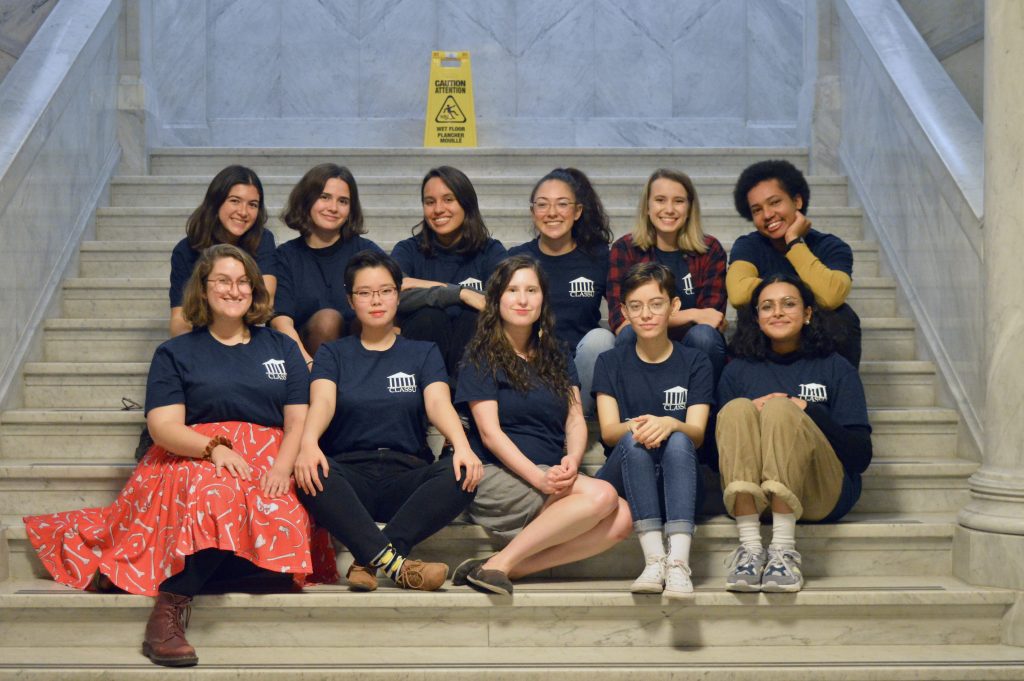 CLASSU's Senate has eleven positions. Five members (President, Vice-President, and three executives) serve a one year term beginning in March/April and are on both the Summer Senate and Full Senate. Six more executives are elected in September and serve until the following March/April. The portfolios of Treasurer and Secretary are assigned by a general vote in September to already elected Executives. The next election will be in September 2019. Read more about the current senate below.
Senate of the Classics Students' Union 2019-20
President: Irum Chorghay
Vice-President: Sydney Miller             
Treasurer: Hannah McCarthy
Secretary: Camille Richter
Senators: Michias Bahlbi, Sarah Ann Florio, Leah Schweitzer Gukathasan, Jen Liao, Sarah Nathanson, Eli dos Santos, Jacqueline Viner
Senate Biographies



Irum Chorghay, President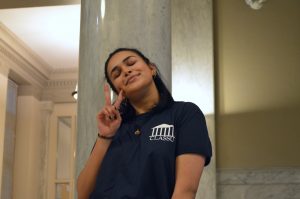 Irum (she/her) is a fourth year Classicist. She believes in cake and democracy, in Archaic art, and in ancient texts that (often accidentally) dismantle gender. Irum is drawn to Crete, to any time labelled a "Dark Age," and to the immobilizing uncertainty of the prehistoric. She lingers along bodies and their sensations, at the exposition of erasure, among the imagined. If you want to chat, let Irum know at classu@utoronto.ca!
Classics courses she's taken: CLA160, CLA260, CLA232, CLA236, CLA308, CLA319, CLA362, CLA382, LAT101-202, LAT342, LAT353, LAT430, GRK101-201
Sydney Miller, Vice-President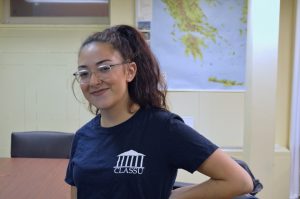 Sydney (she/her) is in her fourth year at Innis College (yes, we do exist) studying Classical Civilization and Archaeology. She's a Hellenist who, thanks to a brilliant instructor, particularly enjoys studying gender and sexuality through the lens of theory. Hit her up with some Sapphic talk and she'll probably want to become best friends. When she's not talking about Classics it's probably something related to whatever tv show she is watching at the moment (always open to Netflix recommendations)! If she is not drowning in midterms/finals, she can probably be found exploring the city with her friends or killing time in the ROM.
Classics courses she's taken: CLA160, CLA260, CLA203, CLA219, CLA230, CLA232, CLA204, CLA233, CLA319, CLA322, CLA362, CLA382, CLA388
Hannah McCarthy, Treasurer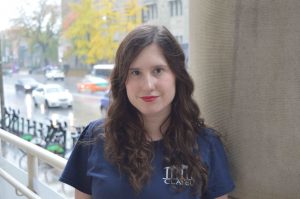 Hannah (she/her) is a fourth-year student at New College, majoring in Classical Civilizations with minors in Drama and English. She is particularly interested in the Julio-Claudian Empire and the women in that complicated family (justice for Julia the Elder!), and funerary inscriptions. Although Roman history is her favourite area of Classical study, Hannah loves Greek tragedy and has devoted quite a lot of time to writing passionate defences for the female 'villains' (Clytemnestra did nothing wrong). Hannah loves science fiction and will happily talk your ear off about Alien and Star Wars—you've been warned. You can find Hannah studying at Lillian Massey or Pratt Library, rummaging through used bookstores, or at your local pop culture convention.
Classics courses she's taken: CLA160, CLA232, CLA219, CLA260, CLA233, CLA236, CLA308, CLA362, CLA367, CLA387, CLA322, CLA368, CLA382, CLA310, CLA319, CLA402
Camille Richter, Secretary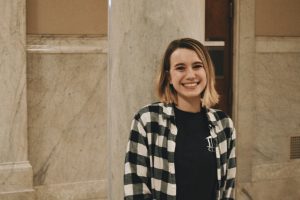 Camille (she/her) is in her first year at Victoria College, and is currently planning on studying Classical Civilizations and Archaeology. Camille's not quite sure what her Classics niche is yet, but thinks that material culture and sexuality in antiquity sounds really neat! She has a deep and fervent love for museums, and can be found taking full advantage of the free admission for students at the ROM every Tuesday. Her interests include historical costuming, calligraphy, and spending too much money on fancy stationery supplies.
Classics courses she's taken: CLA160
Senators
Michias Bahlbi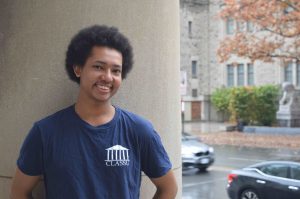 Mickey (he/him) is (just like our area of study) quite ancient!  A fifth year student with a double major in Cellular and Molecular biology and Immunology, as well as a minor in Classical Civilizations, he doesn't quite know what he's doing but he's been doing it for a while so we just go with it!  Mickey is completely a Hellenist with a love for Greek Tragedy and mythology.  He has a lot of opinions on most myths (especially Jason and the Argonauts), so for your own sanity please do not ask.  He also apparently loves Ancient literature enough to put himself through Ancient Greek, and will not stop talking about it!  Mickey's other interests lie in video games, baking, and not sleeping enough while complaining about a lack of sleep.  If you find him in the lounge, feel free to say hi and don't be afraid to tell him to stop playing music as he never really stops!
Classics courses he's taken: CLA160, GRK101, GRK102, GRK201, GRK202, CLA201, CLA203, CLA204, CLA219, CLA232, CLA260, CLA319, CLA382, CLA387
Sarah Ann Florio
Sarah Ann (she/her) is in her first year at Victoria College, planning to study some combination of Classics, Classical Civilizations, and English. She is particularly interested in Latin poetry and Roman History, specifically the early empire, and will happily rant about Emperor Claudius, or the Aeneid to anyone who will listen! When she's not writing songs about Ancient Rome or struggling through Greek and Latin translations, Sarah Ann can be found procrastinating in Caffiends, or annoying everyone in Lower Burwash with her wildly obnoxious ukulele playing and opera singing.  Her hobbies include tap dancing, knitting, singing with her acapella team, and watching Ratatouille literally once a week.
Classics courses she's taking: LAT101, GRK101, CLA160, CLA231
Leah Schweitzer Gukathasan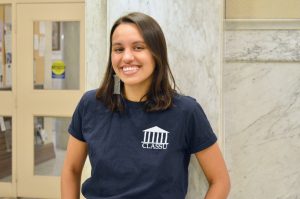 Leah (she/her) is a third year student majoring in Classical Civilizations and Classics with a minor in Anthropology. When it comes to Classics, Leah is particularly interested in material culture, but also literature, but also history… she's very passionate, but very indecisive. She can often be found talking about Antigone, the Tomb of Eurysaces the Baker, or her favourite Roman coin (RRC 508/3)!. In her spare time, Leah thoroughly enjoys digging in the dirt (also known as participating in archaeological excavations), and cooking up a good egg. Other interests include Star Trek: Deep Space Nine, anything Neil Gaiman (please start a conversation with her about The Sandman, she's desperate), and Dirty Dancing. And don't even get her started about Lysistrata.
Classics courses she's taken: CLA160, CLA204, CLA231, CLA232, CLA233, CLA236, CLA260, CLA308, CLA319, CLA322, CLA362, CLA368, CLA388, LAT101, LAT102, LAT201, GRK101
Jen Liao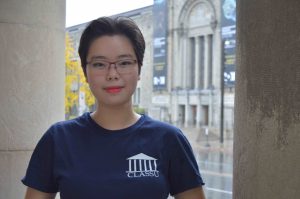 Jen (she/her) is a first year at Trinity College who plans to double-major in Classics and Classical Civilizations. An ardent Romanist and aspiring social historian with an affinity for the ordinary, Jen enjoys perusing ancient clothing, food, altars, and shady Roman backstreets in an exploration of daily life and thought. When not engaged in manuals on household sacrifice or why the Romans thought a public toilet sponge would be a good idea, she can be found reading classic literature, enthusing over fountain pens, or being dragged out of the ROM by concerned friends after spending an entire day yelling about historical superstitious jewelry.
Classics courses she's taking: CLA160, LAT101, GRK101

Sarah Nathanson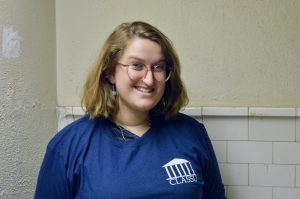 Sarah Nathanson is Classics enthusiast, crafter, and hopeful time traveller. She's in her 4th year at U of T. Right now, she's in CLA362 and several other CLA-sses next term. One day, she hopes to channel her love of ancient architecture and society into museum work, but for now, you can find her in a wide range of libraries and the CLASSU lounge.
Classics courses she's taken: CLA160, CLA260, CLA233, CLA387, CLA371, CLA310 and CLA319.
Eli dos Santos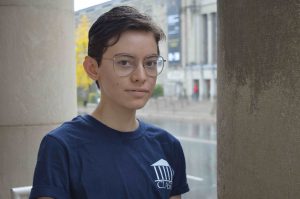 Eli (he/him) is a second year student at Innis College (more proof that we exist!) studying Classics and Classical Civilization. Eli is interested in the mysteries of the Minoan people and the secrets they hide behind their undeciphered texts and is also drawn to Greek Tragedy, especially Euripides' work. He is also very fond of Anne Carson's works and can be found searching through any old bookstore for a copy of her translations or poetry. If he's not talking about Classics, he's probably talking about whatever podcast or tv show he's into at that moment or can be found doodling on whatever free surface he can find.
Classics courses he's taken: CLA160, CLA204, CCR199 (Currently taking: CLA232, CLA260, GRK101, LAT101)
Jacqueline Viner, TikTok Ambassador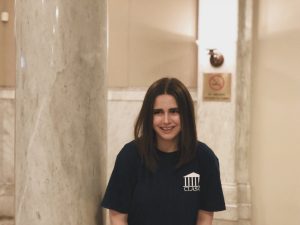 Jacqueline (she/her) is a third year student studying Classical Civilization and Criminology (yes, she knows it's a weird combination but she has decided to roll with it). Jacqueline is a Hellenist who loves classical literature in—and she can't stress this enough—translation. She has a deep affinity for Homer and will never hesitate to share her "hot-takes" (i.e. unsubstantiated claims) on the Odyssey. Athena, her favourite goddess, has helped instil in Jacqueline a desire for wisdom and justice, but most importantly the ability to seamlessly weave Vine references into any conversation (it's a weaving joke!). As you could have predicted by her last name, she has bookmarked countless "greek gods as vines" compilations on Youtube and has been waiting for someone to ask her about them.
Classics courses she's taken: CLA160, CLA232, CLA204, CLA260, CLA201, CLA319, CLA386
Past Senate Members
2018-2019:
President: Laura Harris
Vice-President: Irum Chorghay
Treasurer: Patricia Salata
Secretary: Michias Bahlbi
Senators:  Leah Schweitzer Gukathasan, Kenneth Kim, Sydney Miller, Sarah Natale, Paul Nunez, Camille Richter, Elise Sintim-Aboagye, Erica Venturo 
2017-2018:
President: Samantha Mazzilli
Vice-President: Laura Harris
Treasurer: Elizabeth Colonna
Secretary: Michias Bahlbi
Senators:  Genevieve Crispin-Frei, Ellie Morum, Paul Nunez, Allison Suba,  Felipe Vallejo,  Seraphina Vasilodimitrakis-Hart, and Julia Wyganowski

2016-2017:
President: Willem Crispin-Frei
Vice-President: Samantha Mazzilli
Treasurer: Toby Keymer
Secretary: Elizabeth Colonna
Senators: Sophia Alkhoury, Gabriel Calderon, Laura Harris, Annabelle Kolomeisky, Samantha Odrowaz-Sekely, Allison Suba, and Felipe Vallejo
Summer Senator: Hadley Staite

2015-2016:
President: Taylor Stark
Vice-President: Willem Crispin-Frei
Treasurer: Hana Carozza
Secretary: Toby Keymer
Social Co-Ordinator: Hadley Staite
Senators: Elizabeth Colonna, Samantha Mazzilli, Victoria Prepelita, Felipe Vallejo, Seraphina Vasilodimitrakis-Hart, and Michal Zabinski

2014-2015:
President: Taylor Stark
Vice-President: Willem Crispin-Frei
Treasurer: Michal Zabinski
Student Affairs Co-Ordinator: Nuard Tadevosyan
Secretary: Toby Keymer
Senators: Hana Carozza, Mitch Cram, Samantha Mazzilli, Max Peers, Hadley Staite, and Alexandra Yao
2013-2014:*
President: Maya Chakravorty
Vice-President: Willem Crispin-Frei
Treasurer: Chris Hogendoorn
Student Affairs Co-Ordinator: Gill Scott
Secretary: Taylor Stark
Senators: Aidan Flynn, Toby Keymer, Jeffrey Schulman, Hadley Staite, Nuard Tadevosyan, and Helen Thomas

*Known as the Association of Classics Students until 27 March 2014