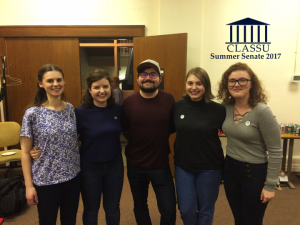 CLASSU's Senate has eleven positions. Five members (President, Vice-President, and three executives) serve a one year term beginning in March/April and are on both the Summer Senate and Full Senate. Six more executives are elected in September and serve until the following March/April. The portfolios of Treasurer and Secretary are assigned by a general vote in September to already elected Executives. The next election will be in September 2017. Read more about the current senate below (Links take you further down the page).
Senate of the Classics Students' Union 2016-2017
President: Samantha Mazzilli
Vice-President: Laura Harris
Executives: Elizabeth Colonna, Felipe Vallejo, and Julia Wyganowski.
Senate Biographies
Elizabeth Colonna, Senator

Elizabeth is a fourth-year Classical Civilizations and Art History Double Major. This year will be her second year on the CLASSU executive as a Senator. Her classical interests lie in Roman art and architecture as well as women in Roman culture. Beyond the classical realm, her interests extend to Baroque paintings and modern sculpture. When she's not working towards beating the record for most hours spent in the Classics Lounge, she can be found taking pictures around Toronto, reading Plebeian, or coming up with captions for CLASSU pictures.
Classics courses she's taken: CLA160, CLA204, CLA219, CLA231, CLA232, CLA260, CLA366; LAT101, LAT102; FAH206, FAH207.
Laura Harris, Vice-President
Laura is in her third year Double Majoring in her double obsession: Classics and Classical Civilizations. This is her first year on CLASSU. Laura's main Classical interests are women in the ancient world, ancient drama, daily life, and ancient literature and poetry, but she can get excited about pretty much anything in the Classical world. She is in her sixth year of Latin and is struggling through intermediate Greek. Over the summer she participated in an archaeological dig at Roccagloriosa, Italy, which was hard work, but she loved every second of it. When not translating, she can be found learning ballet and historical dance, admiring her cat, or organizing books either at home or at Pratt library.
Classics courses she's taken: CLA231, CLA232; GRK101, GRK102; LAT343, LAT351.
Samantha Mazzilli, President
Sam is a fourth-year Classical Civilizations Major, with a Double Minor in Latin and Lit & Critical Theory. She has been on CLASSU as a Senator since the start of her first year, a tenure which critics have rated "Riveting!" and "Almost entirely fuelled by coffee." Having done six years of Latin, she has faced her fair share of classroom embarrassment, almost always at the hands of the subjunctive. She is most interested in Hellenistic art, Latin profanity, and modern (or early modern) literary reception. In her free time, or time spent procrastinating, she enjoys giving tours of Victoria College, getting aggressive over Trivial Pursuit, and quoting SNL sketches. You can usually find her moving from various couches to caffeine sources on campus (and vice versa), but if not, feel free to email her!
Classics courses she's taken: CLA160, CLA204, CLA230, CLA231, CLA260, CLA310, CLA373; LAT101, LAT102, LAT201, LAT202, LAT350, LAT352; FAH207, FAH312.
Felipe Vallejo, Senator
Felipe is a third-year Classical Civilization and Philosophy major. He's from University College (you can't spell CLASSU without UC) and a die-hard Hellenist. This will be his second year on the Senate, having previously served as the First Year Senator last year. His classical interests are Ancient Greek mythology, Greek and Roman Epics, and Ancient Philosophy (Leggo Plato!). When not on CLASSU, Felipe is either rambling about soccer, jamming to music, and, more recently, crying about taking Latin and Greek at the same time.
Classics courses he's taken: CLA160, CLA204, CLA231.
Julia Wyganowski, Senator
Julia Wyganowski is a third-year student majoring in Classical Civilizations and minoring in Art History and German Language. This is her first year serving on the CLASSU Senate and will stop at nothing to make it a memorable one! Her classical interests can be narrowed down to basically everything, but if you must make her choose (a cruel thing to do) she favors the art of the Greek and Roman world, Roman religion, ancient plays, and Latin (please help her this is a cry for help). Beyond the classical realm, her interests include studying languages (hint hint German minor hint hint!) and Renaissance and Baroque art and sculpture. If you can pull her away from her bed and various Netflix shows and movies, Julia will gladly find a nice café to read a book (if she can ever find the time), wander around art museums, ski down a snowy mountain peak, or lets face it watch more Netflix.
Classics courses she's taken: CLA160, CLA204, CLA231, CLA230; LAT101, LAT102.
Past Senate Members
2016-2017:
President: Willem Crispin-Frei
Vice-President: Sam Mazzilli
Treasurer: Toby Keymer
Secretary: Elizabeth Colonna
Senators: Sophia Alkhoury, Gabriel Calderon, Laura Harris, Annabelle Kolomeisky, Samantha Odrowaz-Sekely, Allison Suba, and Felipe Vallejo
Summer Senator: Hadley Staite

2015-2016:
President: Taylor Stark
Vice-President: Willem Crispin-Frei
Treasurer: Hana Carozza
Secretary: Toby Keymer
Social Co-Ordinator: Hadley Staite
Senators: Elizabeth Colonna, Sam Mazzilli, Victoria Prepelita, Felipe Vallejo, Seraphina Vasilodimitrakis-Hart, and Michal Zabinski

2014-2015:
President: Taylor Stark
Vice-President: Willem Crispin-Frei
Treasurer: Michal Zabinski
Student Affairs Co-Ordinator: Nuard Tadevosyan
Secretary: Toby Keymer
Senators: Hana Carozza, Mitch Cram, Sam Mazzilli, Max Peers, Hadley Staite, and Alexandra Yao
2013-2014:*
President: Maya Chakravorty
Vice-President: Willem Crispin-Frei
Treasurer: Chris Hogendoorn
Student Affairs Co-Ordinator: Gill Scott
Secretary: Taylor Stark
Senators: Aidan Flynn, Toby Keymer, Jeffrey Schulman, Hadley Staite, Nuard Tadevosyan, and Helen Thomas

*Known as the Association of Classics Students until 27 March 2014