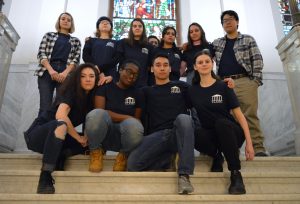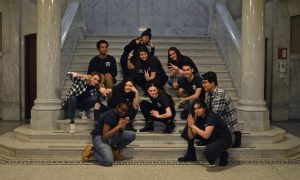 CLASSU's Senate has eleven positions. Five members (President, Vice-President, and three executives) serve a one year term beginning in March/April and are on both the Summer Senate and Full Senate. Six more executives are elected in September and serve until the following March/April. The portfolios of Treasurer and Secretary are assigned by a general vote in September to already elected Executives. The next election will be in March 2019. Read more about the current senate below.
 Senate of the Classics Students' Union 2018-2019
President: Laura Harris
Vice-President: Irum Chorghay                                                                                  Secretary: Michias Bahlbi                                                                        Treasurer: Patricia Salata
Executives: Leah Schweitzer Gukathasan, Kenneth Kim, Sydney Miller, Paul Nunez, Elise Sintim-Aboagye, Camille Richter, Erica Venturo
Senate Biographies
Laura Harris, President

Laura (she/her) is in her fourth year at Victoria College double majoring in her double obsession: Classics and Classical Civilizations. This is her second year on CLASSU.  Laura's main Classical interests are women in the ancient world, social and cultural history, and literature, particularly poetry and drama, but she can get excited about pretty much anything in the Classical world. She is in her eighth year of Latin and is struggling through Greek 300. She likes to spend her summers looking at pottery at archaeological digs in Italy. When not translating or annoying people with the latest book she's reading, she can be found learning ballet and historical dance, admiring her cats, or organizing books either at home or at EJ Pratt library.
Classics courses she's taken: CLA 230, CLA231, CLA232, CLA260, CLA303, CLA310, CLA364, CLA368, CLA382; GRK101, GRK102, GRK201, GRK202, GRK351; LAT342, LAT343, LAT350, LAT351, LAT428.

Irum Chorghay, Vice-President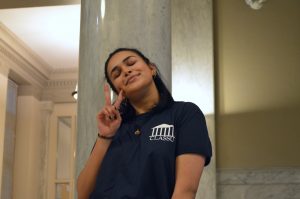 Irum (she/her) is a third year student within the departments of Classics and Philosophy, happy to have stumbled upon the cake and tea flavoured comforts of CLASSU. Keen to achieve some level of existential enlightenment via the Undergraduate Experience™, Irum can often be found at Lillian Massey sipping on coffee (she is a strikingly slow drinker) and pondering the never-ending mysteries of reconstructing daily life in the Greco-Roman world. Sometimes this means considering flouncy-skirted and bare-breasted Minoan women. Other times it is observing the complexities of sexuality in classical Athens. And still at another moment, it is revisiting some good ol' Catullus for a quick chuckle. Just as the intricacies of classical antiquity are infinite, so are her interests in the field, and she always holds her mind open for a new and puzzling conversation!
Classics courses she's taken: CLA160, CLA260, CLA232, CLA308, CLA319, CLA362, LAT101-202, LAT342, LAT353, LAT430, GRK101-201
Senators
Mickey Bahlbi, Secretary

Mickey (he/him) is a fourth year student double majoring in Immunology and Cellular Molecular Biology, as well as minoring in Classical Civilizations.  Why?  Who knows!  This is his second year serving as secretary on the senate and he endeavours to not be impeached at any point in the year.  His classical interests lie mainly with Greek plays and mythology, though he has (slightly) dabbled in Roman social history!  A Hellenist with a (questionable) love for Medea and an unhealthy hatred of Jason, he'll probably let you know about it quicker than he should.  He enjoys (attempts at) baking in his spare time, as well as literally any musical genre and video games.  Mickey can generally be found in the lounge and may look busy and unapproachable, but is probably doing nothing and would love to talk!
Approved List of Names in no particular order:  Michias, Mick, Mickey, Michael, Mike, Mikey, Nicholas, Nick, Nicky, Micholas
Classics Courses Taken: CLA160, CLA201, CLA203, CLA204, CLA232, CLA260, CLA319, CLA382, CLA387
Leah Schweitzer Gukathasan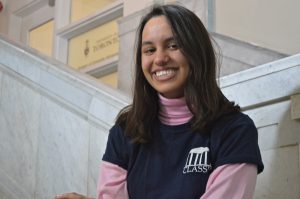 Leah (she/her) is a second year student majoring in Classical Civilizations and Evolutionary Anthropology. She loves anything extinct, whether they're ancient civilizations or bipedal apes. When it comes to Classics, Leah is particularly interested in material culture, but also literature, but also history…. she's very passionate, but very indecisive. She can often be found talking about Antigone, the Tomb of Eurysaces the Baker, or her favourite Roman coin (RRC 508/3!). In her spare time, Leah thoroughly enjoys digging in the dirt (also known as participating in paleoanthropological or archaeological excavations), and cooking up a good egg. Other interests include Star Trek: Deep Space Nine, anything Neil Gaiman, and Dirty Dancing. In her free time Leah can be found at whatever library is closest to her next class, possibly doing readings, but most likely enjoying a good old fashioned scroll through her Twitter timeline.
Classics courses she's taken: CLA160, CLA204, CLA231, CLA232, CLA233, CLA236, CLA260, CLA319, CLA322, CLA368, CLA388, LAT101, LAT102

Kenneth Kim                                                                                                          

Kenneth (he/him) is a student at Woodsworth College in his third year as a Classics and Archaeology major. After stumbling through some translations of Apuleius and Aristophanes in his first year, Kenneth continues to stumble toward a better understanding of Greek and Latin so that he can better understand what ancient authors are saying (or leaving unsaid), why they're saying it, and how he might express his own answers to these questions. When words fail him—rather that he fails at words!—Kenneth enjoys his flights of fancy into the fantastical worlds of games such as Dungeons & Dragons and World of Warcraft, which, for someone who lives inconveniently far from the Waterfront, is as close as he'll get to a long walk on the beach  Classics courses he's taken: CLA160, LAT101, LAT102, LAT201, LAT202, CLA233, CLA231, CLA203
Sydney Miller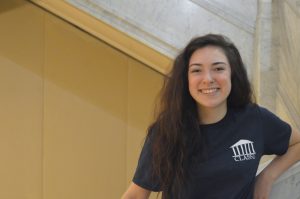 Sydney (she/her) is in her third year at Innis College (yes, we do exist) studying Classical Civilization and Archaeology. She's a Hellenist who particularly enjoys studying the roles and lives of women in antiquity, as well as the fluidity of sexuality. Hit her up with some Sapphic talk and she'll probably want to become best friends. The same will happen if you quote Disney's Hercules. When she's not talking about Classics it's probably something related to Harry Potter or whatever tv show she is watching at the moment so if you ever was Netflix recommendations feel free to ask. When not drowning in studying for midterms/finals, she can be found exploring the city with her friends with her favourite places being High Park and the Toronto Islands. One time she held the CLASSU President's hand at Canada's Wonderland on The Fly and it was life-changing.
Classics courses she's taken: CLA160, CLA260, CLA203, CLA219, CLA230, CLA232, CLA204, CLA233, CLA362 

Paul Nunez                                                                                                                    

Paul (he/him) is a fourth-year student majoring in English and Classical Civilizations at St. Michaels college. He prefers studying the Greeks and likes making connections with Shakespeare's classical works like Lucrece or Titus Andronicus in his English studies. His inspiration comes from Achilles, even though he whines, due to his pretty face and affinity for war. Paul prefers coffee but only drinks it in emergencies, pouring a libation for the gods. His side interests include sleeping and increasing his lactate threshold.
Camille Richter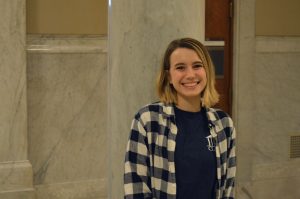 Camille (she/her) is in her first year at Victoria College, and is currently planning on studying Classical Civilizations and Archaeology. Camille's not quite sure what her Classics niche is yet, but thinks that material culture and sexuality in antiquity sounds really neat! She has a deep and fervent love for museums, and can be found taking full advantage of the free admission for students at the ROM every Tuesday. Her interests include historical costuming, calligraphy, and spending too much money on fancy stationery supplies.
Classics courses she's taken: CLA160 
Patricia Salata, Treasurer

Patricia (she/her)  is completing her final year as a St. Michael's College student doing an Archaeology major and a double-minor in Classical Civilizations and Near-Middle Eastern Civilizations. Her interests in the oh so magnificent Classical world focus on social and cultural history, and art (Red-figure pottery 4 life). After doing a workshop in Bulgaria on conservation of Ancient Greek pottery she has discovered she does not want to be the next Indiana Jones, but to be a part of the preservation and restoration of material of the ancient world. When she's not in class, you'll probably find her in the lounge aggressively playing UNO with friends or crying in Robarts. #CampHalfblood4ever
Classics courses she's taken: CLA 160, CLA 231, CLA 232, CLA 260, CLA 373, CLA 387, GRK 101, GRK 102, FAH 207, FAH 303
Elise Sintim-Aboagye

Elise (she/her) is in her 5th year at UofT pursuing double majors in Classics and Cell & Molecular Biology. It would seem like she just can't get enough of this place. While she is enthralled with all things science, she has and will always have a strong fascination with Greek, Latin, and the ancient world. Therefore, medicine in Antiquity is her perfect niche. When she isn't translating or writing lab reports, you can typically find her in the CLASSU lounge quoting vines and memes, colouring, or engrossed in a rousing game of UNO. Her other interests include playing guitar, reading crime novels, meeting new people, and hanging out with friends. She takes her tea with two milks and one sugar.
Classics courses she's taken : CLA160, CLA260, CLA204, CLA201, LAT201, LAT202, LAT341, LAT350, LAT430, LAT443, GRK101, GRK102, GRK201, GRK202, GRK341
Erica Venturo

Erica (she/her) is a fourth-year Classical Civilizations Major, with a Double Minor in History and Political Science. This is Erica's first year on the CLASSU senate, even though she spent most of last year procrastinating on her work by attending CLASSU events and relaxing in the CLASSU lounge. In the summer, Erica likes to dress up like Indiana Jones and work on archaeological projects in Greece and Rome to find the lost bust of Emperor Commodus (or at least a Roman
coin). She is most interested in Greek mythology, Roman numismatics and Late Roman settlement patterns. She enjoys curling up on the couch with a hot chocolate and Ovid's Tristia on a cold winter day. In her free time, she enjoys completing jigsaw puzzles in record time, destroying the competition in Uno, and nerding out over the DCTV shows.
Classics courses she's taken: CLA160, CLA204, CLA230, CLA231, CLA232, CLA233, CLA260, CLA336, CLA364, CLA386, CLA389; LAT101, LAT102, LAT201, LAT202
Past Senate Members
2017-2018:
President: Samantha Mazzilli
Vice-President: Laura Harris
Treasurer: Elizabeth Colonna
Secretary: Michias Bahlbi
Senators:  Genevieve Crispin-Frei, Ellie Morum, Paul Nunez, Allison Suba,  Felipe Vallejo,  Seraphina Vasilodimitrakis-Hart, and Julia Wyganowski

2016-2017:
President: Willem Crispin-Frei
Vice-President: Samantha Mazzilli
Treasurer: Toby Keymer
Secretary: Elizabeth Colonna
Senators: Sophia Alkhoury, Gabriel Calderon, Laura Harris, Annabelle Kolomeisky, Samantha Odrowaz-Sekely, Allison Suba, and Felipe Vallejo
Summer Senator: Hadley Staite

2015-2016:
President: Taylor Stark
Vice-President: Willem Crispin-Frei
Treasurer: Hana Carozza
Secretary: Toby Keymer
Social Co-Ordinator: Hadley Staite
Senators: Elizabeth Colonna, Samantha Mazzilli, Victoria Prepelita, Felipe Vallejo, Seraphina Vasilodimitrakis-Hart, and Michal Zabinski

2014-2015:
President: Taylor Stark
Vice-President: Willem Crispin-Frei
Treasurer: Michal Zabinski
Student Affairs Co-Ordinator: Nuard Tadevosyan
Secretary: Toby Keymer
Senators: Hana Carozza, Mitch Cram, Samantha Mazzilli, Max Peers, Hadley Staite, and Alexandra Yao
2013-2014:*
President: Maya Chakravorty
Vice-President: Willem Crispin-Frei
Treasurer: Chris Hogendoorn
Student Affairs Co-Ordinator: Gill Scott
Secretary: Taylor Stark
Senators: Aidan Flynn, Toby Keymer, Jeffrey Schulman, Hadley Staite, Nuard Tadevosyan, and Helen Thomas

*Known as the Association of Classics Students until 27 March 2014